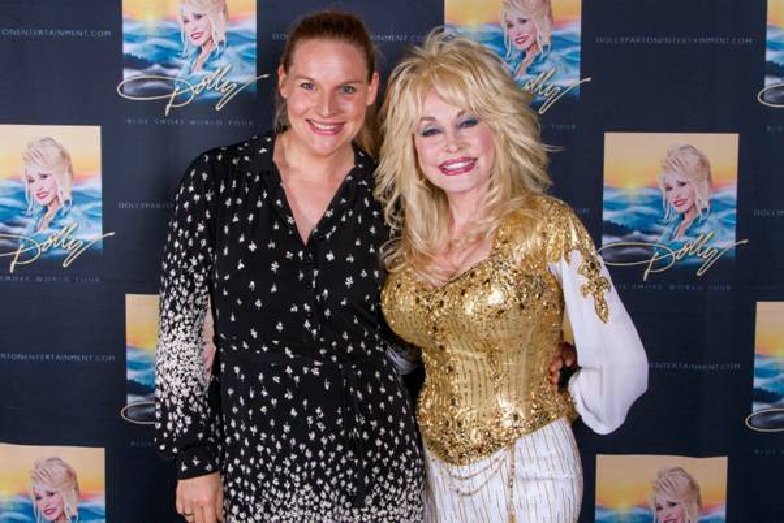 I'M A-STARTIN' WITH PARTON
As many of you know, I am a fervent admirer of Dolly Parton. And since she's releasing a new album this week, Die Zeit has happily entrusted me with a detailed Parton-portrait! Yeah. Yeeehaw. Finally.
The article is in today's edition of the real Die Zeit (on paper), and will be put online later.
But I've posted my favorite research discoveries for you on my YouTube channel in an acutely evangelistic playlist.
To the "mildly interested," and to those with something a little different in mind, I recommend either the documentary at the beginning, or else: something from the top, something from the middle, and something from the bottom of the list.
To everyone else: a few snippets of ginger along the way, to cleanse the palate. Or a song by John Cage or System of a Down.
So. Here we go: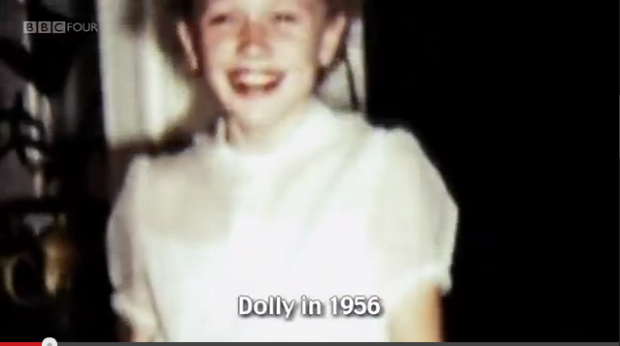 To begin, the total package: a beautiful, comprehensive BBC documentary, 50 minutes long, with many lovely clips from live shows and interview excerpts. It helps to link the young Dolly to the present-day Dolly, because you can better comprehend what, umm, came before. Anyone who doesn't like clicking through YouTube videos that much, but would enjoy an introduction to the Partonian oeuvre, can just view this one alone and regard the rest as the liner notes to a compilation of Best Ofs (for listening).
Anyone, on the other hand, who would like to spend an entire evening with Dolly–and isn't scared off by the "Whoa, what a hairdo"-aspect–might now like to follow me: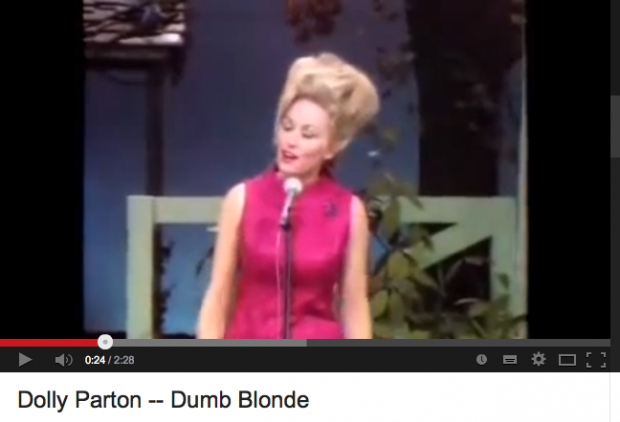 Dolly's very first appearance on the Porter Wagoner show. The song is one of the few that she didn't write herself, but no song could better sum her up: "this dumb blonde ain't nobody's fool." Wagoner became her mentor–also apparently in matters of fashion, judging by his flamboyant outfits–and she became his sidekick on the show.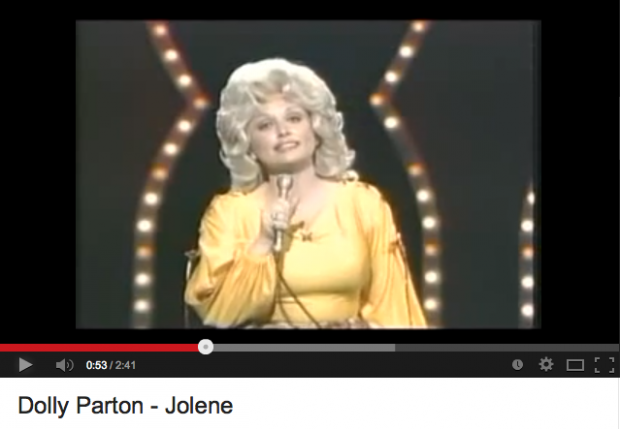 Jolene–probably the best-known and most agreed-upon Dolly hit in Germany. To me, one of the best songs ever written. Miss Parton says, incidentally, that she wrote it because she was jealous of a pretty, red-haired bank teller who chatted too long with her Carl. Dolly Parton's husband, Carl Thomas Dean, is one of the best-kept secrets in pop–because hardly anyone's caught sight of him in over 47 years of marriage.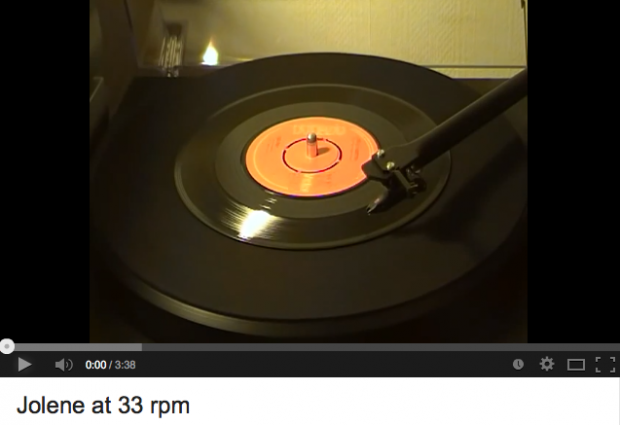 Jolene at 33 revolutions sounds amazingly–fantastic! Which reinforces my perhaps absurd-sounding theory, that men's and women's voices in country music have virtually the same effect: let's call it, umm, innocence. In any case, a drastically slowed-down Dolly is a country singer whose record I would buy.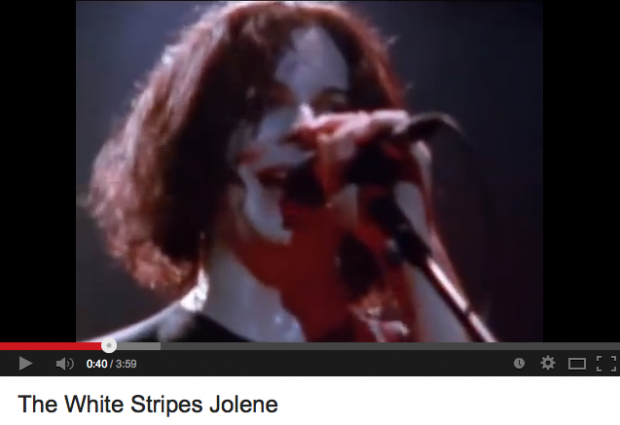 One of the best-known (of many, many) cover versions…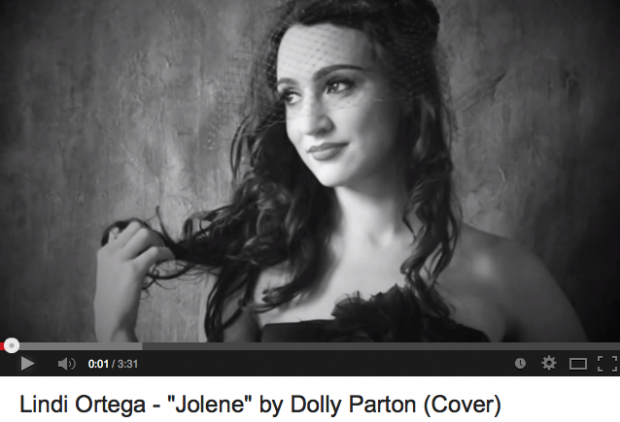 …and one of the most beautiful…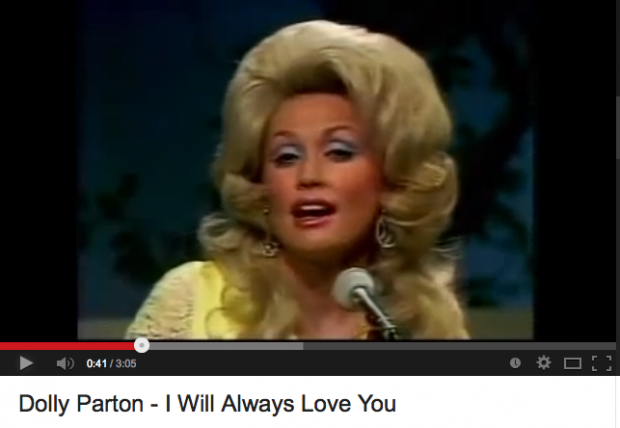 Arguably her most famous and at the same time unknown hit (SHE wrote that???). She did. In fact, for her friend and mentor Porter Wagoner, whose show she left in a quarrel in the mid-70s, after far eclipsing him in popularity–not without singing him this song as a farewell during the broadcast. In the early 80s came the great reconciliation, followed by joint appearances. Porter died of lung cancer in 2007–with Dolly and his family at his side. Oh, and apropos dumb blonde: even Elvis wanted to sing "I will Always Love You"–but, because his manager wanted half of the publishing rights, Dolly declined. Her own version became one of her first big moves into the pop mainstream–and when she later passed it on to Whitney Houston, there was no more talk of transferring the rights.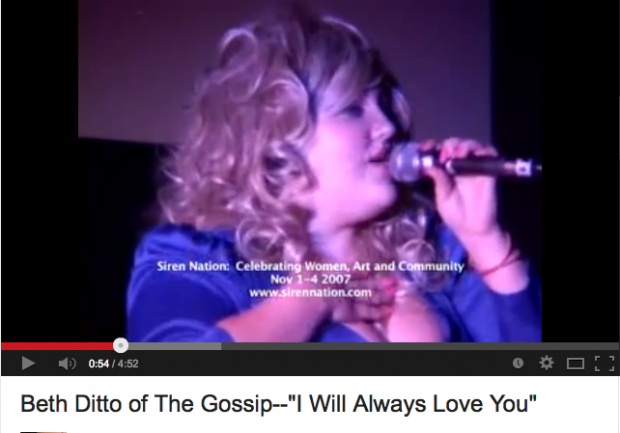 The naturally better cover version: Beth Ditto (pre-Gossip) at a Dolly-party in Portland. Beats the pants off of Whitney.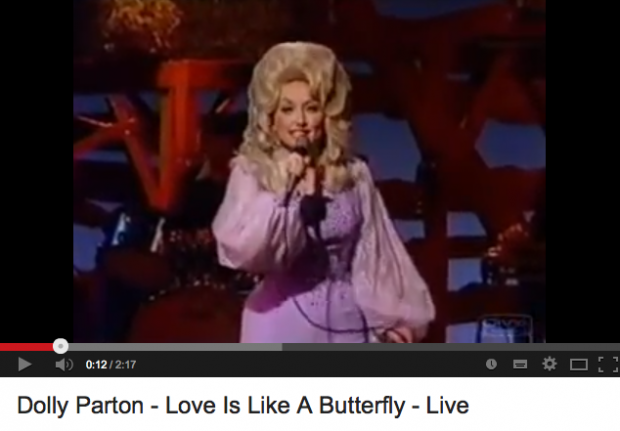 Possibly my favorite song. Or no? Or yes? Still…? Yet, yet. If you chirp along with this in the morning, you'll be tripping all day.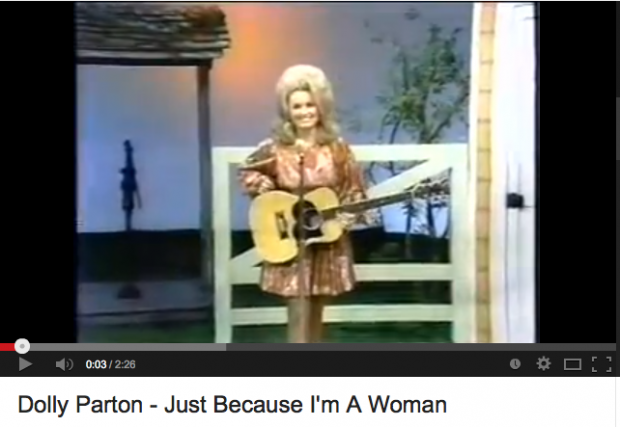 It's hard to believe today, but this harmless little song had a tough time on the radio back then because it seemed to women's-libby to stations. At the end of the clip, you can see a man right in the middle of the audience who doesn't applaud.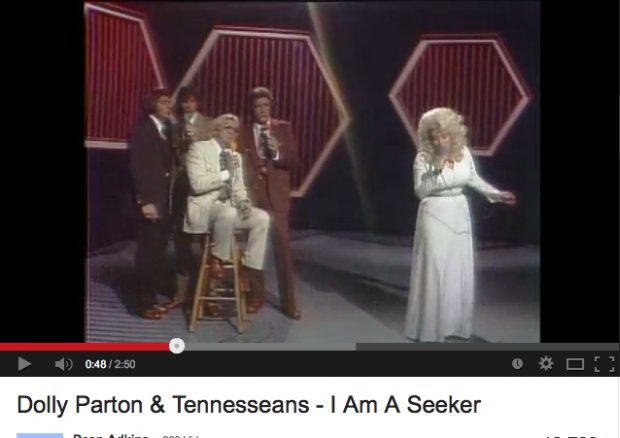 A beautiful song, which shows the affinity between country and gospel. If you're impatient, scroll down to the full-throated finale…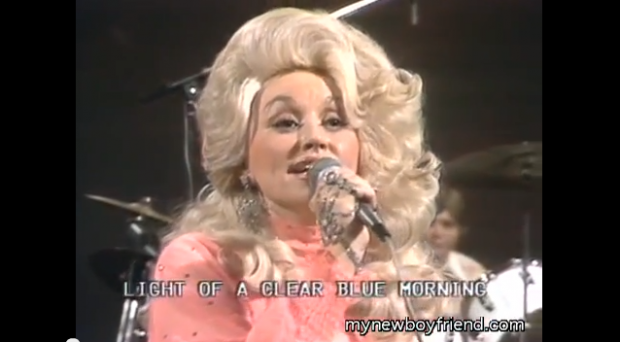 Here, once again, more pronounced gospel elements… It's always darkest just before the dawn! Dolly wrote the song at a time when she had just rebounded from a months-long bout of serious depression. This depression was triggered by exhaustion, and the realization that she–for both professional and biological reasons–would have no children.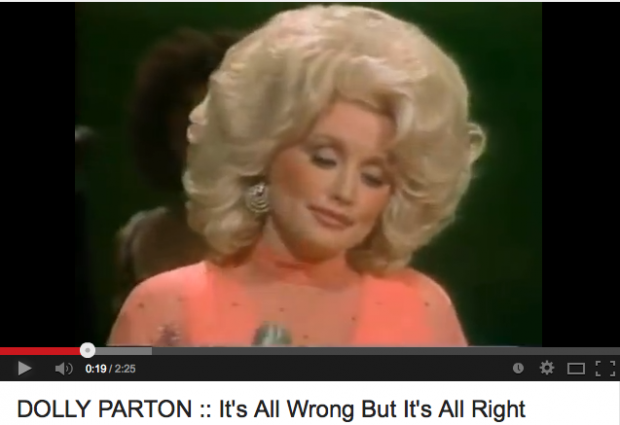 … and one more example of why country is known as "white soul."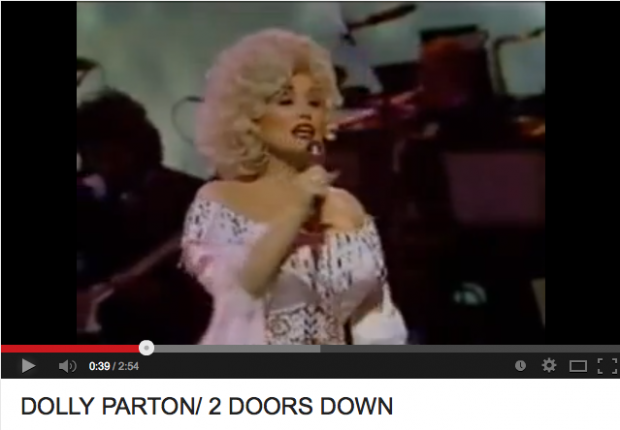 Announcing the Disco-era Dolly! From the rooftops. Beg pardon.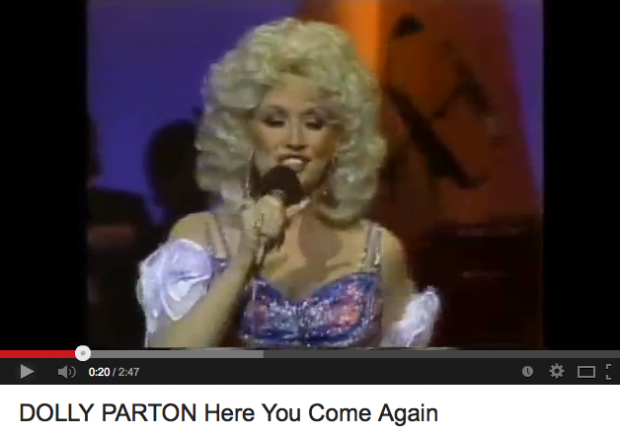 This one I included mostly for the "Aww, that's hers too?"-moment, but you can also spend that moment dancing in the disco.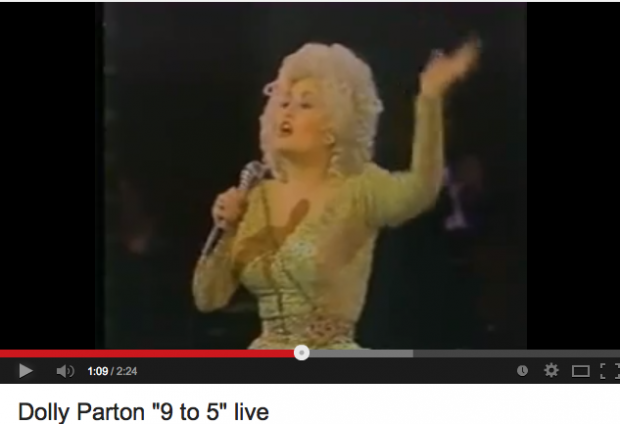 The title song to the film of the same name, in which Lily Tomlin and Jane Fonda star alongside Dolly, who plays a secretary with a slight emotional overload. And a rifle. Just think: "Falling Down" as Feel-Good Comedy.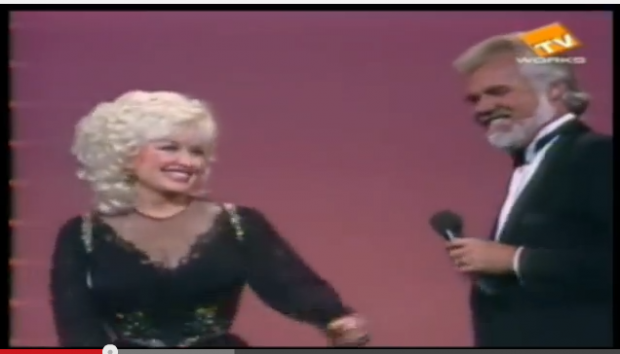 In conclusion, one of my favorite songs and an unbeaten Karaoke-favorite–even though it's not easy to recruit a partner for the Kenny Rogers part (Martin Wenk, we still have an appointment!). My favorite moment in this live excerpt: when Dolly steps on her buddy's foot, laughs, and says, "Scuse me, Kenny!" But he couldn't have noticed it anyway, since Dolly once said: "Of course I have tiny feet. Nothing grows in the shade!" Barry Gibb of the BeeGees wrote the song; more recently, he earned new honor as "Ghetto Supastar" from Pras featuring Ol' Dirty Bastard and Mya.
That's it! If I've been able to infect 0.2% of you, I'm happy.
I see-heee-eee-ee-eee the light of a clear blue morniiiiing!
Judith Holofernes