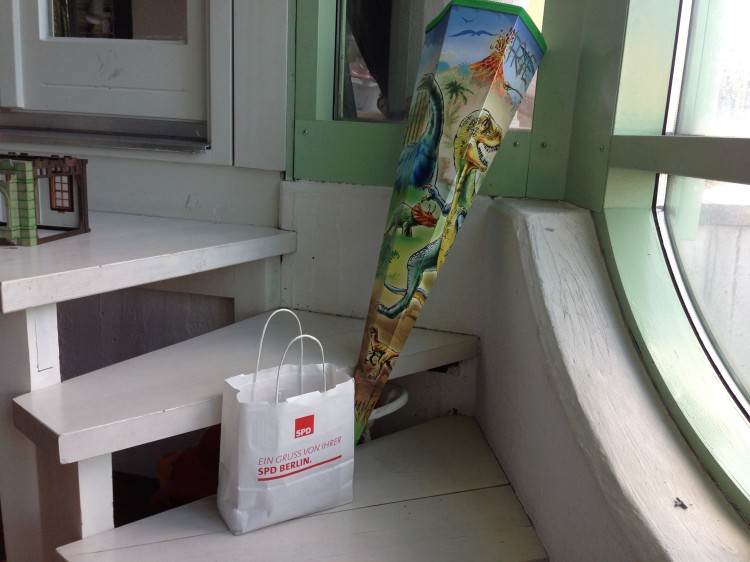 SOCIAL DEMOCRATS USE FIRST DAY OF SCHOOL IN KREUZBERG AS PROMOTION OPPORTUNITY
The Social Democrats (SPD) are distributing little goody bags emblazoned with the party logo to first-graders–on their first day of school! On Saturday, friendly-looking SPD foot soldiers waited in front of many (all?) Kreuzberg elementary schools, to press red/and-white goody bags into the hands of approaching children on their way to first-day ceremonies–without asking the nearby parents, who got at most a sheepish sidelong glance.
The (surely calculated) result: most of the pictures of this special day now show bewildered little children with SPD bags in their hands. And, next to the children, slightly grumpy parents who naturally wouldn't feel right about taking their little gifts away from them.
What's next, dear SPD? Lunchboxes? Toothbrushes? C'mon. My son has already happily given them away.
Although the author Kalle Lasn predicted over ten years ago that advertising-free zones would completely disappear,* he surely would not have imagined that an established political party would "crash" the first day of school.
As always, share your own feelings.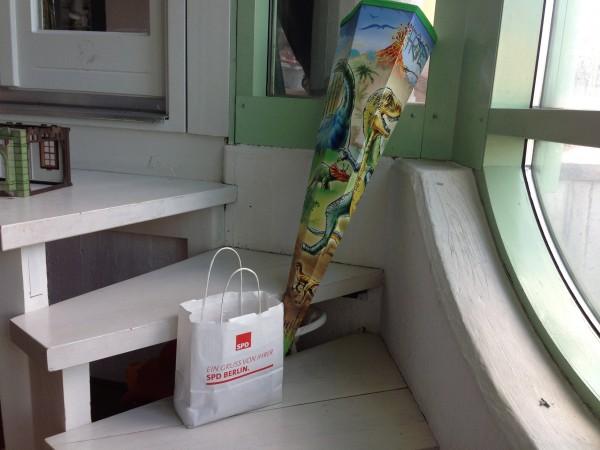 In any case, a little postscript! I eagerly look forward to SPD goody bags for:
– First Heartbreak
– First Sexual Intercourse
– Leaving School/Dropping Out
– Matriculation in Truck Driver-School
– Marriage
– Divorce
– Burial
… and so on. Surely something else will occur to you!
Thank You Very Much,
Judith Holofernes
* Mr. Lasn's lovely book Culture Jamming has been heartily recommended here many times already.